Tutorial for Sierra Wireless Modules
Learn to use and test all the features in the Sierra Wireless modem using the AT Command Tester tool.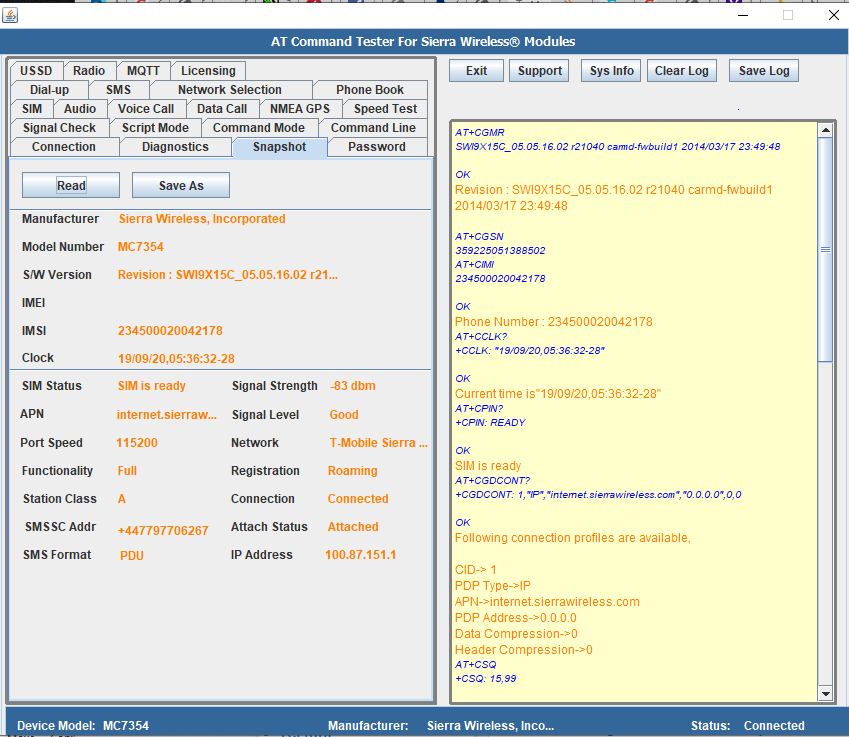 Install drivers – Install mobile broadband drivers for Windows OS so that the Sierra Wireless modules can be connected through COM ports or connected as a modem device.
Connect to AT Command Tester – Connect the Sierra Wireless module to the AT Command Tester tool to test the various features of the module.
Run diagnostics commands – Run diagnostics commands in the module
Check SIM Status – Verify if the SIM is present and ready in the Sierra Wireless Module.
Unlock password-protected commands – Some of AT Commands in the Sierra Wireless modules are password-protected, the need to be unlocked before using them.
Find networks – Find the nearby network providers and connect to the available network.
Check signal strength – Verify the signal condition and adjust the device and/or antenna position to get the best signal.
Check registration status – Verify the device is registered with the network providers. The device should be registered before it can connect to the network.
Setup APN – Set up the Access Point Network (APN) before connecting to the network. APNs are network provider specific and are provide along with the SIM card purchase.
Setup data call – Activate the Packet Data Protocol (PDP) context to set up the data call.
Setup voice call – Set up voice call with the Sierra Wireless module.
Send/Receive SMS – Send/Receive SMS messages in text or PDU mode. Configure the SMS settings and read the messages in the SMS inbox.
Setup dial-up connection – Set up dial-up connection to get connectivity on the host system with the Sierra Wireless module.
Run speed test – Run upload/download speed test through FTP and HTTP data transfers.
Set bands – Set band configuration for different regions.
Set Radio Access Technology (RAT) – Select the radio access technology such as GSM, UMTS, HRPD, LTE etc.
Read NMEA GPS – Read the GPS information returned through the NMEA ports.
SAR Power Backoff – Set the Maximum power for LTE/WCDMA/CDMA bands.
Keywords:
Module , M2M , GPRS , 3G , through AT commands,