$55.99
This development board has SIM7020G module which is Multi-Band LTE NB-IOT solution for global deployment.
Technical Specs
Model No
SIM7020G
Category
4G Module
Manufacturer
SIMCOM
Form Factor
Hardware Development Board
Dimensions
Technologies                                    
NB-IoT
Download Speed
26.15 Kbps
Upload Speed
62.5 Kbps
Freq bands
LTE
B1/B3/B5/B8/B12/B13/B17/B18/B19/B20/B25/B26/B28/B66/B70/B71
Temperature
–
Certifications
C – CCC/TA/CTA/RoHS/REACH

E – CE/RoHS/REACH

Carriers Approved
China Mobile/CHINA Telecom/China Unicom
Interfaces
USB, GPIOs, ADC, I2C
Voice Support
N/A
GPS Support
N/A
Tutorial
This tutorial is applicable for SIM7000A and SIM7000C Simcom modules.
Assemble the SIM7000A development kit
Connect the SIM7000A-TE board to the SIMCOM-EVB board as shown in picture below.
Install the drivers
Download the CP210x USB to UART bridge Virtual COM Port (VCP) driver from the below link,
https://www.silabs.com/products/development-tools/software/usb-to-uart-bridge-vcp-drivers
Connect the USB port on the SIMCOM-EVB board to USB port of your computer.  If the VCP drivers are installed successfully, 2 virtual COM ports should be visible under the PORTS in Device Manager.
Connect the SIM7000A board to AT Command Tester
After the drivers are installed, launch the AT Command Tester application. Connect to the enhanced COM port (COM4 in above case). Please note that the standard and enhanced ports may enumerate to different port numbers in your computer.
Run diagnostics commands with SIM7000A module
Using the tool, run diagnostics AT commands on SIM7500A module.
Check Network Connectivity on the SIM7000A Module
Get the signal strength and the registration status on the SIM7000A module. If the module is unable to acquire the signal, registration will not be possible. Check the antenna connector on the board. Also verify the band is properly configured on the SIM7000A module.
Set up Packet Data Protocol (PDP) profiles
Set up APN in the PDP profile. Check with the network provider regarding what APN should be provisioned for your network.
Setup TCP/IP connection with SIM7000A
Using the AT Command Tester tool, setup TCP/IP connection with the SIM7000A module.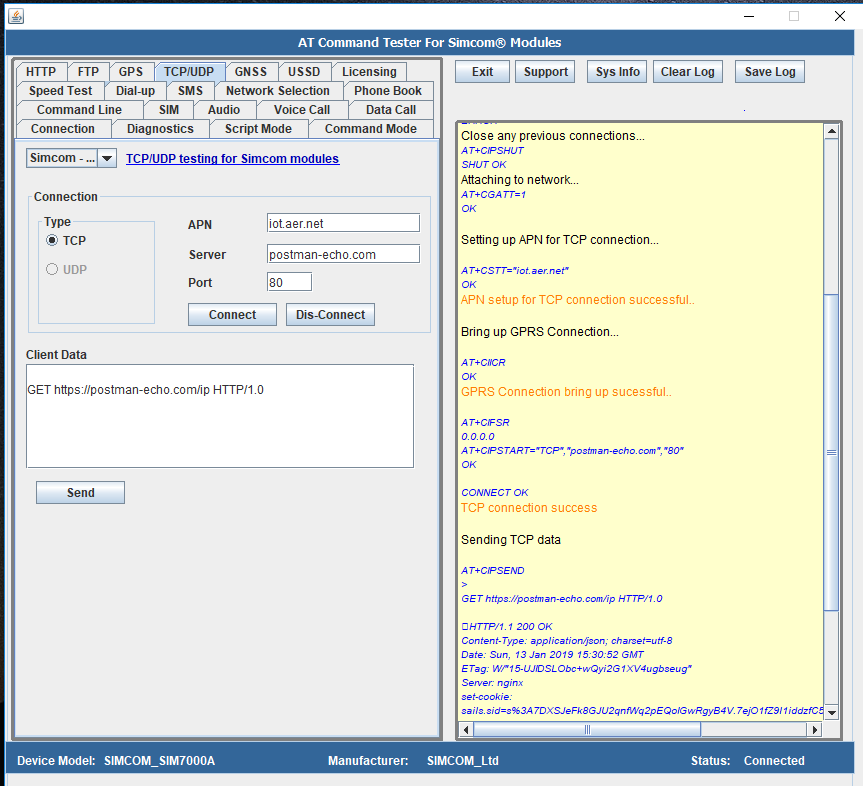 Test HTTP feature with SIM7500A module
Use the AT Command Tester tool to test HTTP GET and POST features of the SIM7500A module.
HTTP GET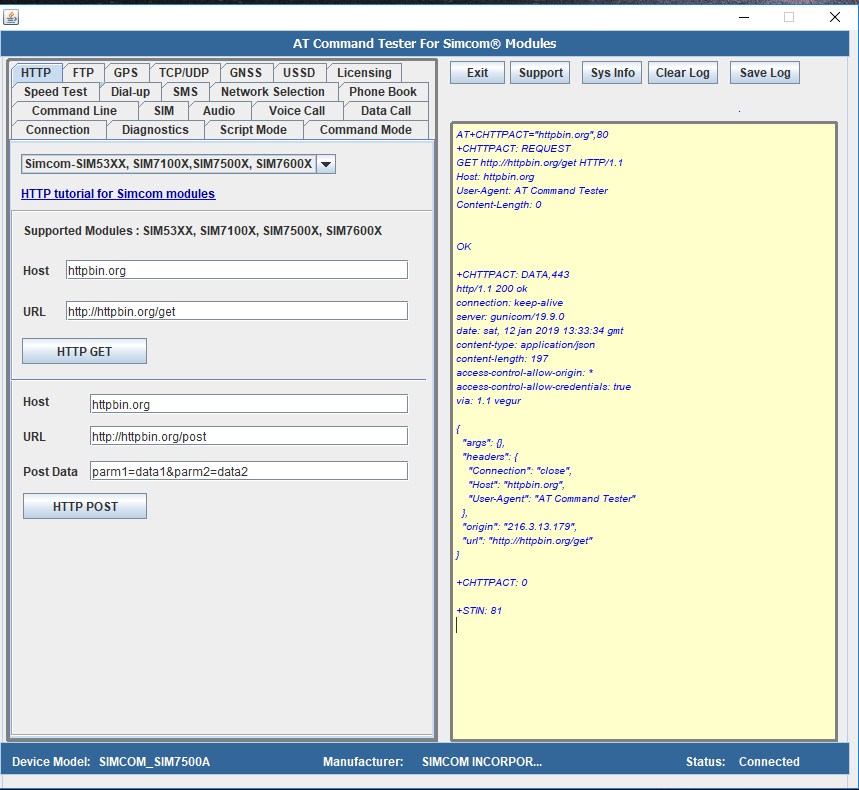 HTTP POST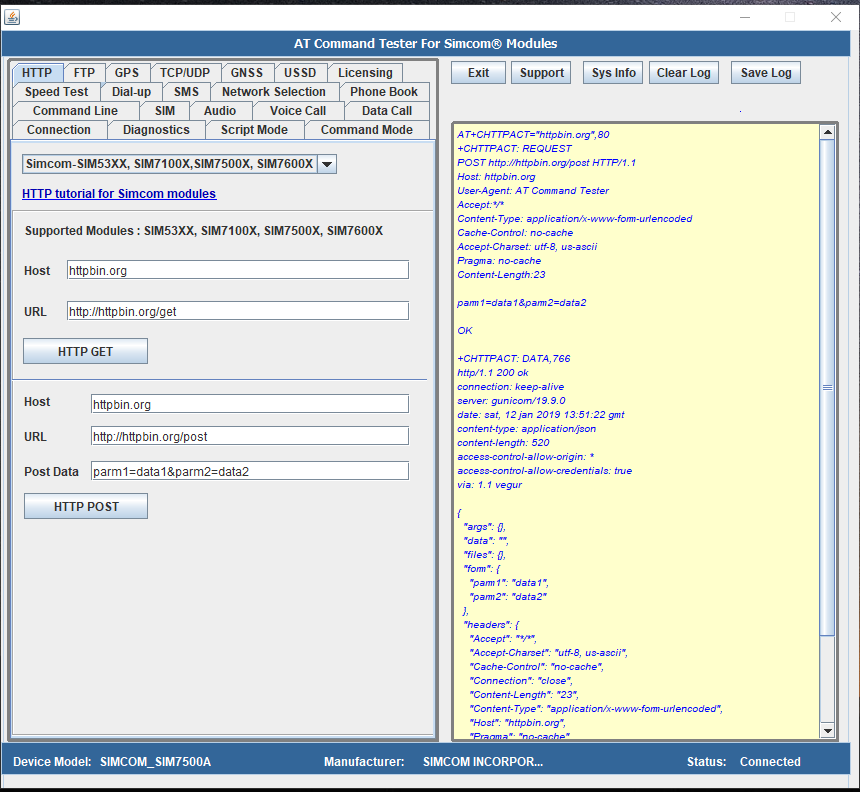 HTTP GET script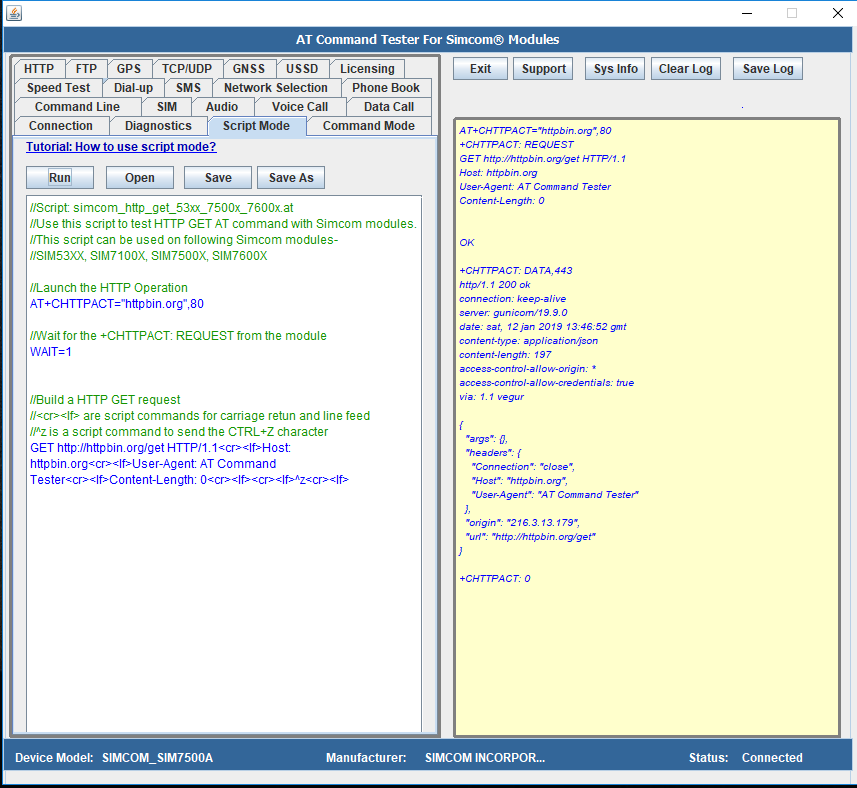 HTTP POST script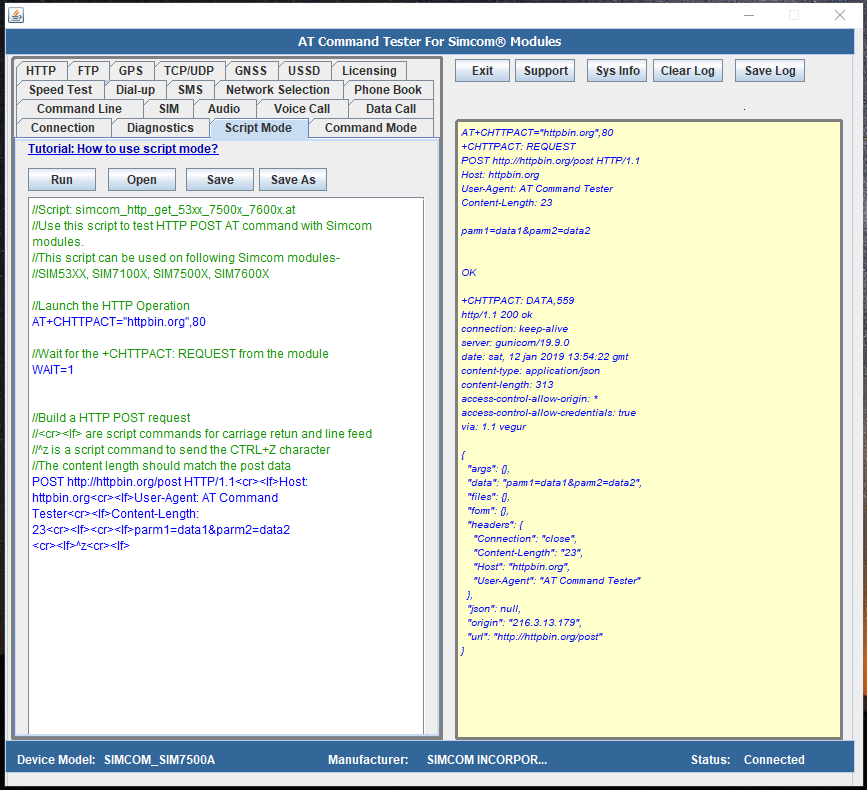 Test
| | |
| --- | --- |
| Model | |
| Manufacturer | |
| Dev. board Module | |
| Module Manufacturer | |
| Form Factor | |
| Dimensions | x x |
| Technologies | |
| Maximum Upload Speed | |
| Maximum Download Speed | |
| GPS Support | |
| GNSS Support | |
| Automotive Support | |
| Temperature | |
Check the compatibility of with networks in the country