| | |
| --- | --- |
| Carrier | Rogers |
| APN | rogers-core-appl1.apn |
| Mobile Country Code (MCC) | 302 |
| Mobile Network Code (MNC) | 720 |
| Country | Canada |
| Technologies | LTE,HSPA+,HSDPA,UMTS,EDGE,GPRS |
| Frequency bands | |
| GPRS/EDGE | 1900/850 MHz |
| WCDMA | B2 (1900 PCS),B5 (850) |
| LTE | B4 (AWS-1),B7 (2600),B12 (700 a),B17 (700 b) |
| Certifications | IC, PTCRB |
| Applicable Modules | GPRS Modules ,EDGE Modules ,UMTS Modules ,HSDPA 3.6 Modules ,HSDPA 14.4 Modules ,HSPA+ 21 Modules ,LTE Modules |
| M2M Developer Support | Yes |
| M2M Service Platform | M2M Control Center |
Set APN to rogers-core-appl1.apn for Rogers Network
Using the AT Command Tester tool, set the APN to rogers-core-appl1.apn in devices operating on Rogers Network.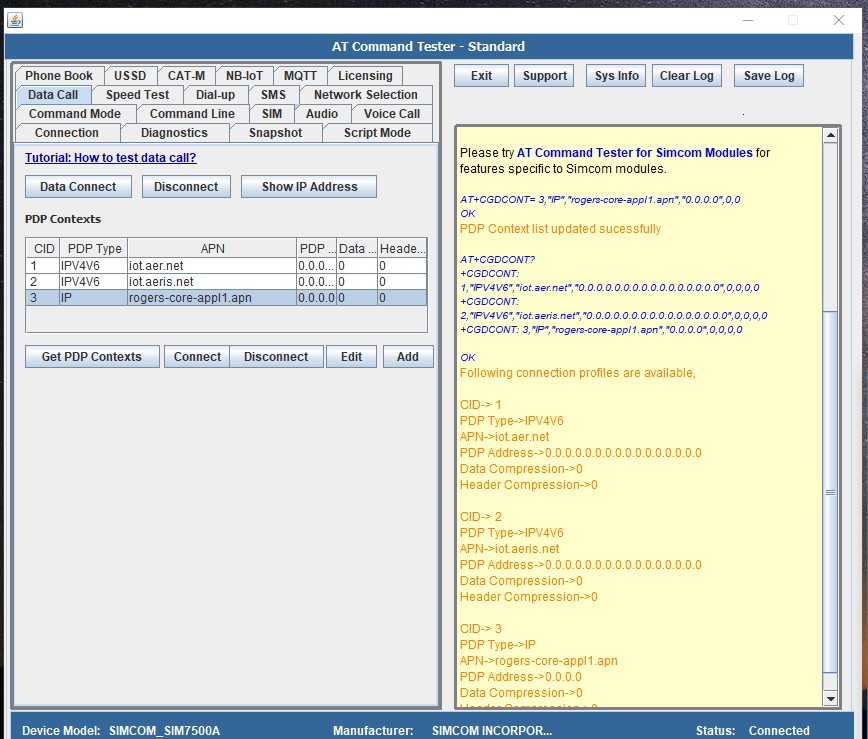 Rogers is based in Canada and provides M2M services on LTE,HSPA+,HSDPA,UMTS,EDGE,GPRS technologies.Rogers M2M developer support information is also available at the website.M2M service platform is available through M2M Control Center. M2M vertical markets focus for this carrier are Asset Management ,Telematics ,Digital Signage ,Fleet Tracking ,Remote Worker. M2M data plans are available in
Rogers
website.
Roger's M2M services are provided by Jasper Wireless. Development kit and test SIMs are avaialble through Jasper's website. In addition, Roger's M2M control center also gives complete access to teh real-time information about the deployed devices. Rogers Data Alliance (RDA) program also helps in go-to-market activities that includes many eco-system players such as service specialists, solution providers, resellers and IT distribution channels.

[1] - Subscriber number as of 2012.Please check the carrier website for up-to-date information
Keywords: Rogers M2M data plan, certification, pricing, Rogers machine to machine, Rogers M2M SIM ,Rogers M2M platform ,Rogers M2M API