AT Command

Description



AT+HTTPACTION AT Command is used perform HTTP actions such HTTP GET or HTTP post. AT+HTTPACTION is a proprietary Simcom AT command.
The format for AT+HTTPACTION is,
AT+HTTPACTION=Method,StatusCode,DataLen

For Method, possible values are,
0:READ
1:POST
2:HEAD


Support

Simcom Module Tutorial

Examples


Keywords
AT+HTTPACTION syntax, examples, parameters, error, input, response.
AT+HTTPACTION AT command is used to either do a HTTP PUT or HTTP GET function on the Simcom modules.
With Online AT Command Tester tool, you can test Simcom HTTP feature.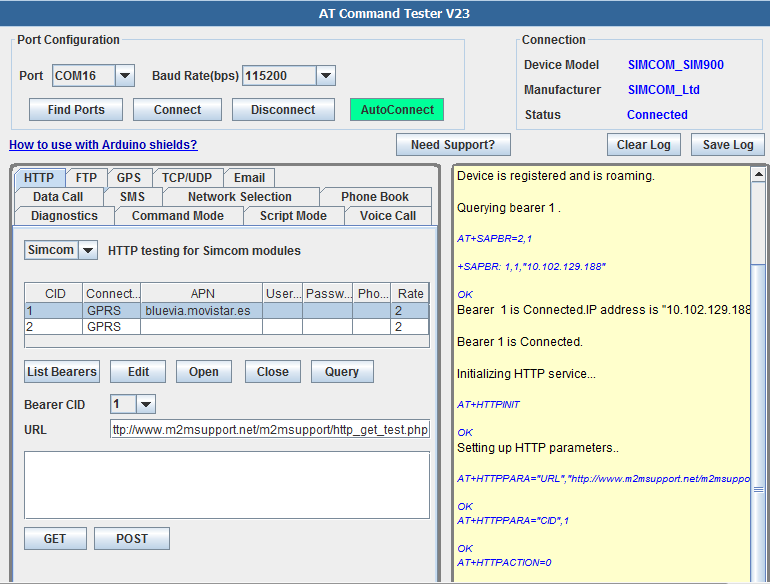 Send batch of AT commands in the script mode,

//Check the registration status
AT+CREG?
//Check whether bearer 1 is open.
AT+SAPBR=2,1
//Enable bearer 1
AT+SAPBR=1,1
//Wait untial bearer is activated
WAIT=6
//Initialize HTTP service
AT+HTTPINIT
//Set the HTTP URL
AT+HTTPPARA="URL","https://www.m2msupport.net/m2msupport/http_get_test.php"
//Set the context ID
AT+HTTPPARA="CID",1
//Set up the HTTP action
AT+HTTPACTION=0
//Do a HTTP read
AT+HTTPREAD
//Wait for the HTTP response
WAIT=6
//Terminate the HTTP service
AT+HTTPTERM