| | |
| --- | --- |
| Carrier | T-Mobile USA |
| APN | fast.t-mobile.com |
| Mobile Country Code (MCC) | 310 |
| Mobile Network Code (MNC) | 260 |
| Country | United States |
| Technologies | LTE,DC-HSPA,HSPA+,HSDPA,UMTS,EDGE,GPRS,GSM,LTE NB-IoT |
| Frequency bands | |
| GPRS/EDGE | 1900/850 MHz |
| WCDMA | B2 (1900 PCS),B4 (AWS-1700) |
| LTE | B2 (1900 PCS),B4 (AWS-1),B5 (850),B12 (700 a),B66 (AWS-6) |
| LTE NB-IoT | B2 (1900 PCS),B4 (AWS-1),B12 (700 a) |
| Certifications | FCC, PTCRB |
| Applicable Modules | GPRS Modules ,EDGE Modules ,UMTS Modules ,HSDPA 3.6 Modules ,HSDPA 14.4 Modules ,HSPA+ 21 Modules ,DC-HSPA+ 42 Modules,LTE Modules |
| M2M Developer Support | Yes |
| M2M Service Platform | Raco Wireless, 3rd-party provider |
Device Certification:&nbsp&nbsp
Device certification for T-Mobile USA is managed through Raco Wireless. The certification requirements are mostly covered through FCC and PTCRB. Raco Wireless also provided development kits for application developers.
Set APN to fast.t-mobile.com
Using the AT Command Tester tool, set the APN to fast.t-mobile.com in the devices operating on the T-Mobile USA network.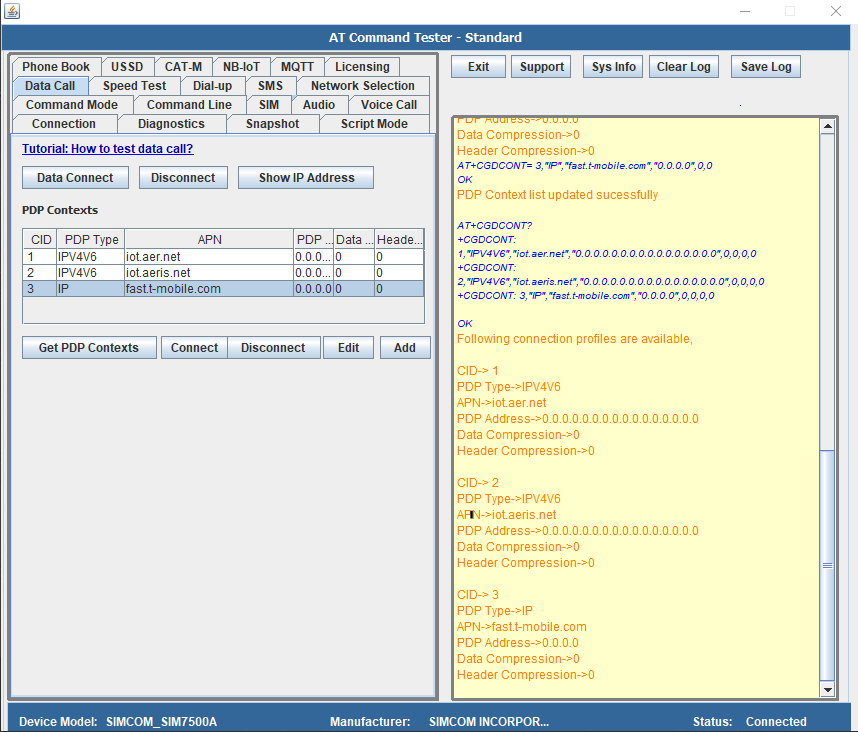 T-Mobile USA is based in United States and provides M2M services on LTE,DC-HSPA,HSPA+,HSDPA,UMTS,EDGE,GPRS,GSM,LTE NB-IoT technologies.T-Mobile USA M2M developer support information is also available at the website.M2M service platform is available through Raco Wireless, 3rd-party provider. M2M vertical markets focus for this carrier are Asset Management ,Telematics ,Telehealth ,Digital Signage. M2M data plans are available in
T-Mobile USA
website.
T-Mobile USA has partnered with Raco Wireless for providing M2M services on thier network. Raco Wireless offers end-to-end solution for any M2M application that includes device certification, customized billing, rate plans, SIM cards, engineering support and SIM provisioning and activation.

[1] - Subscriber number as of 2012.Please check the carrier website for up-to-date information
Keywords: T-Mobile USA M2M data plan, certification, pricing, T-Mobile USA machine to machine, T-Mobile USA M2M SIM ,T-Mobile USA M2M platform ,T-Mobile USA M2M API